Alchemical Door
Acrylic on Canvas - 36x60
all metaphysical systems are doorways. Doorways out to the mysteries of creation. Doorways to understanding. Doorways into ourselves. When looked at more deeply all metaphysical systems are the same doorway and when lain over each other they fit perfectly together like universal puzzle with each of us as the last and final missing piece. We are each, the key.
Fires of Perception
Acrylic on Canvas - 16x20
Our Third Eye. What we perceive. Our these visions accurate? Or tainted by the glasses we wear that are built of our past. Can we really see clearly even from this place of divine sight if we are still looking through those old damaged and broken spectacles we have worn for a lifetime?
Indigo Flames
Indigo Visions
Sight cleared
20/20 vision restored
Maybe
Like a child learning to read
Even the most familiar concepts
Presented now
In a wholly new format
Require patience
Concentration
A sounding out through mind and voice
To be sure
That what is before us
Is really what it seems to be
As we dance freed in our shimmering new vision
Cerridwen Dances
(the beginning of it all...)
And there I was….pulled to the fire, called for reasons not still yet completely realized a whole year plus later. Yet I was called, the Fire called. And I came and this image, painted twice now, fell forth from my hands of its own, using me only as a channel and gave me to know this path and the images it would birth, were going to be something quite different than anything I had experienced before.
Dancer
Fire Dancer
Primal Cat
Ancient Goddess
Bodies moving
Flames singing
Calling
The scent of prey
As strong as the scent of love
Lust
The Hunt
What dance is this?
None I have ever danced before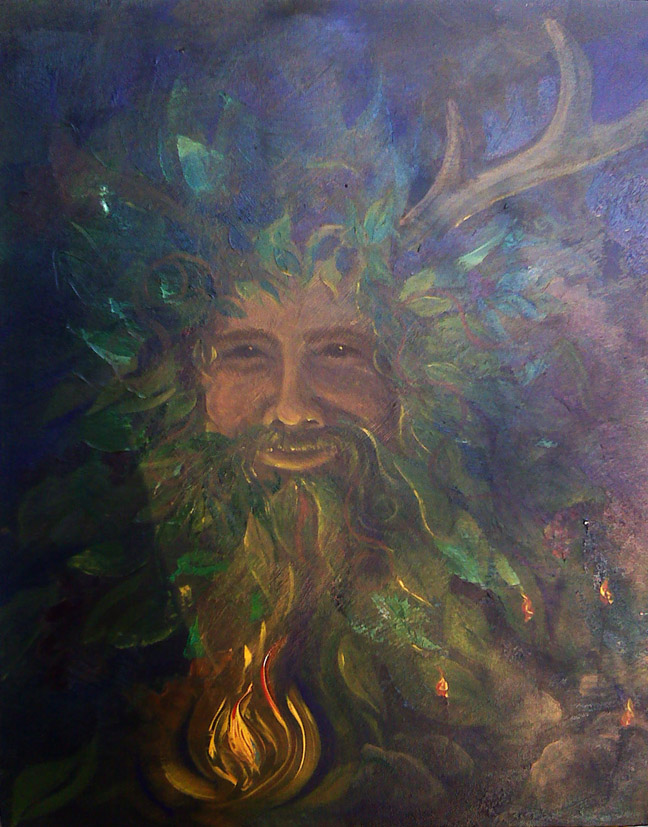 Cernunnos Rising
Kundalini Rising
Kundalini Rising
Acrylic on Canvas 48x48
26 people in the depths of the winter, joined tight in the cauldron to change none other than themselves. What happens when a sealed container filled with ecstatic energy and pure intent reaches the boiling point? What happens when the lid blows from the cauldron and you see within Her Eyes, the eyes of Creation, and know them for your own?
Spiritborn Neverborn Drifting
Shielded Hidden Away Sacred
Priestess Goddess Serpent
Alone yet joined with All
Here There
Now Then
Swirling Twirling Writhing
Born on the waves of drum energy song love
Connected with the Infinite
Shot through with radiant beams of light
White hot cleansing swirling snake of energy
Her Eyes burning blue into from my soul
The gentlest touch upon my head still felt
My first reconnection to this world
Two things only remain to remind of my trip
Inside outside of time
Soul Song
Soul Song
Acrylic on Canvas 20x24
How do we lose our voice? How do we find it again? What pain do we carry forward from childhood, past hurts and traumas that cause us to silence our own beautiful song, words, sounds?
Fire born song,
rising to the throat,
the crescendo of its assent,
the blue center of sound,
and finally, tear washed,
emerging, poured forth
in a rush to become a rainbow river,
which finally free rises
higher than ever dreamed
Moon Silvered Dreams and Visions of Gold
Acrylic on Canvas
Brilliant Shining Full Moon calling to paint and imagine. All the images finally arrive, the dream comes flowing in, full and real, complete, each center in place and almost finished I am called to the out of doors so that She, Bright Silver White Lady of the Night can speak directly to my heart, and send me back to the easel to paint the luminescent path that braids each wheel into a magnificent whole.
Burned clean the colors pulse
Gold encrusted rainbow wheels of light
Each encompassing its fullest potential
Whole and complete in itself
Freed from past scars
Unattached to outcomes and futures
Moon Magic called forth
Sung within an Artist's heart
A holy creation
Life's breath entwined
Within a luminescent path of Magick
Unity Divine